Lessons From the Stockdale Manor Women
Community service was always first on their agenda.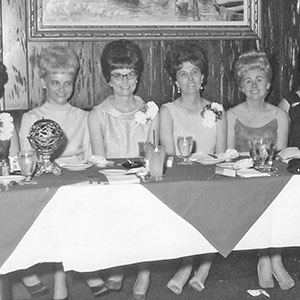 Mom and Dad bought their first home in 1954 when I was almost 2 years old. Brand new, the modest 1,100-square-foot home sat on the corner of Ford and Morrison Street in Bakersfield, Calif., in the Stockdale Manor subdivision. Our neighborhood was on the outskirts of town. Scant development lay beyond where oil wells and the Kern River flowed.
In our neighborhood, dads brought home the bacon, working hard each day at blue-collar jobs. Moms stayed home to manage the household and the children.
Soon after the subdivision filled, the women found a need to expend their energy in ways that would benefit others. Fun and sociability fed their desire to help.
The rap of a brass-and-wood gavel called to order the first meeting of the Stockdale Manor Women's Club in 1955. Twenty or so neighborhood moms were charter members. My mom, Betty Jo, was one.
Meetings were held on a rotating basis at members' homes. Service to community drove the agenda; socializing was a perk. The ladies planned all club activities from their tiny living rooms and small galley kitchens.
When hosting fell to Mom, my two sisters and I were filled with eager anticipation. Over the years we learned that Mom always put off the after-meeting cleanup until the following morning. The three of us were out of bed early on those days. In the quiet of dawn, we ate leftover cocktail nuts from crystal bowls. The pink, gold-flecked candy dish containing pastel mints was emptied into our candy-greedy palms. We cleaned up before Mom could.
The ladies of the club were humble in nature, income and deed. They were a small group and were realistic in their choices of community service.
The March of Dimes was the primary focus of their civic-minded efforts. Club members marched door to door through nearby neighborhoods attired in their Sunday-best dresses and heels, demure hats atop their heads, white-gloved hands holding donation cans, collecting for the cause.
We children were enlisted to fund-raise too. One Halloween, dressed as witches, pirates and cowboys, we ran with excitement to each neighbor's home, a pillowcase clutched in one hand for our candy loot, and a March of Dimes can in the other. We returned home from a night of trick-or-treating with pillowcases heavy with treats and cans full of coins. Our moms had melded fun with the good sense of helping others.
At election time, the Stockdale Manor Women's Club organized and supervised polling booths in the living room of club member Mildred Jones. The club respected the voting process, giving it their full attention. Voters came and went all day and into the evening. Dads and kids fended for themselves while our moms handed out ballots and ensured voters' privacy behind curtained booths.
It wasn't all work and no play for the ladies. Their monthly dues paid for installation dinners and holiday celebrations too. Gatherings for members and their spouses were held at once-famous locations along Union Avenue, also known as Old Highway 99. The Bakersfield Inn and Maison Jaussaud's -- where The Ink Spots, Johnny Carson and Carol Channing once performed -- were among the many exceptional establishments where special events were held.
But the fun extended beyond fine dining and dancing. Oftentimes the club held progressive dinners to celebrate a variety of occasions. Most of these took place up and down Morrison Street, Stine Road and Dunlap Drive, where the majority of members lived. The dinner progression was held to a confined area for a compelling reason: By the time they enjoyed dessert, cocktails consumed along the way had rendered some husbands somewhat wobbly on their feet. The women needed a short walk to gently guide their husbands home.
The kids benefitted from the club's affinity for fun too. Our moms organized Easter egg hunts at nearby Saunders Park. Dozens of dyed hard-boiled eggs were hidden amongst the bushes and trees. Eggs were balanced on the cold steel frames of swing sets, slides and monkey bars. While we children hunted eggs, our dads barbecued hot dogs and burgers that we washed down with ice-cold Coca Cola, A&W Root Beer and Dr. Pepper.
Christmas skate parties were held at Rollerama Roller Rink on 34th Street. It was cold outside and often foggy, but we kids sweated indoors in our heavy winter clothing as we competed to be the best skaters. Boys raced each other. Girls clasped hands to form a chain and stop them. We skated backward, in pairs, in circles and figure eights, and we skate-danced to the Hokey-Pokey. You put your left foot in; you put your left foot out ...
We exchanged a dime-store gift with another child and each of us received a store-bought, red-mesh Christmas stocking filled with hard candy, cheap plastic toys and dreams of Santa Claus and his toy-filled sleigh.
Celebrating holidays taught us about giving, socializing and fun. Collecting for the March of Dimes and watching our moms at the polling booths taught us how to contribute to our community. We unwittingly learned life lessons and started to develop a social consciousness. Club members taught by example.
Upward mobility, divorces and moms joining the workforce caused the Stockdale Manor Women's Club membership to dwindle in the late 1960s. Friendships held on for a time, but the neighborhood could not. New homeowners replaced the originals. Homes became rentals. People came and went. The sense of a neighborhood community was lost and the club disbanded.
The final fall of the gavel symbolized the beginning of the end for our neighborhood. A freeway extension will soon dominate the area where my childhood home once stood at 26 Morrison Street. Homes are gone. Club members have died. But the legacy of the good women who wanted to do good things lives on.
The gavel, a photo and a pink candy dish stir my memories of the Good Old Days, made infinitely better by the ladies of the Stockdale Manor Women's Club.