The Timko's Remedy
Nothing brought greater joy on a hot summer day.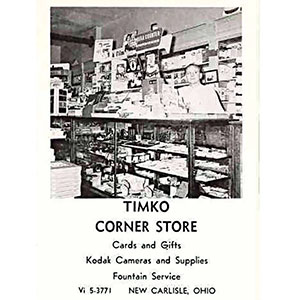 On the first day of summer in 1933, John Dillinger made local history by robbing the New Carlisle National Bank on the southeast corner of Main and Jefferson. Twenty-five summers later, on the diagonally opposite corner of that same intersection, a less sensational, more personal form of history was being made. It all took place behind a simple storefront topped by a sign in all caps marking the site of the Timko Corner Store.
Timko's, as my family always called it, was an old-fashioned drugstore and soda fountain in downtown New Carlisle, Ohio. It had become a favorite port of call among locals, a destination where they could stop, talk and rest awhile. The drugstore portion comprised rows of shelves laden with boxed and bottled pills and portions of all kinds, enough to make patrons shake their heads at the sheer number of ailments to which we're all vulnerable. There were also miscellaneous items of varying cost, from Kodak cameras and film to sundries such as nail clippers, pipe cleaners and plastic beads.
However, the crown jewel of Timko's, the essence of its appeal, was its soda fountain. With goosenecked spigots and an imposing set of levers, handles and push-pumps, the stainless steel fountain complex looked vaguely like a pipe organ console dotted with stops. On the other side of a long, welcoming counter, revolving stools waited in a row for visitors to climb aboard. And above it all, whirling as languidly as summer birds, ceiling fans wafted a faint, agreeably medicinal odor through the air.
Folks stopping by indulged in a variety of delights, many with arcane names like "Houseboat" and "Black Cow." But there was also the more conventional collection of candies, cones and creams to explore. The soda fountain made Timko's the kind of oasis that never stopped beckoning, all the more insistently as the summer wore on.
Mr. Mike Timko -- a gentle, kindly man in a vanilla druggist's smock -- was one of the two brothers who owned and ran the establishment, tending to every task from compounding remedies to jerking sodas. It was that same Mr. Timko who introduced me to the pleasures of a "chocolate Coke," a Coca-Cola® drawn fresh from the fountain into a green glass dusted with crushed ice, to which a luxurious squirt of chocolate syrup was then added. The result was nothing short of perfection: My glass would soon empty, my eyes would glaze over, and I'd twist back and forth on my stool, as sated as a 4-year-old drunk. That was the Timko's remedy I remember best, and none ever brought greater joy or relief, especially on those humid summer afternoons.
Occupying the stool next to mine would be Mama, sporting flats, shorts and a scarf. Her sweet tooth compelled her to order a large root beer float or, if she was feeling especially daring, one of Mr. Timko's generous banana splits.
On her right perched my sister, Anne, one of a vast collection of pacifiers clamped between her lips. Just 2 years old, she showed only a passing interest in sweets, preferring pacifiers to pralines. Trouble was, no one could predict just when her latest favorite might work loose and tumble from her mouth, setting off her hair-trigger bawling. Fortunately, Mama had prepared herself by packing spares in her purse so she could resolve such catastrophes in short order.
Mama was in her 30s, and although she tried her best to parent us properly, we gave her no easy time of it. But between her gentle heart and Irish toughness, and by hewing to the principles so famously touted in the '50s by Dr. Benjamin Spock, she managed to blaze her own path through the child-rearing wilderness.
As we continued to relax at the counter, Mama would chat with Mr. Timko, nodding or shaking her head, then taking slow, considered pulls, this time from her straw, next time from her Marlboro. I watched and listened, blissful in the midst of my Coke intoxication, quietly absorbing everything I could. I sensed, even then, that this experience was something wonderful, something rare -- something I mustn't forget.
Too soon, it was time to leave. After saying our goodbyes to Mr. Timko, the three of us exited into the muggy heat. I had surrendered my equilibrium to my revolving stool, so I stumbled as I made my way to our car. Anne and I clambered into the back, the hot, bench-style seat stinging our hands and knees, and bouncing us like a trampoline. Mama turned the key, revved the Ford straight-six twice, and pulled the long, ball-handled column-shift into first. Off we sped, Mama bound to finish whatever errands she had left before getting home in time to have supper on the table when Daddy returned from his job at Wright-Patterson Air Force Base in Dayton.
Sooner or later, of course, everything belongs to history. Mama is gone now, having lived a long, mostly happy, always busy life of nearly 93 years. Anne's pacifier adventures have passed into family lore but are still sometimes discussed, much to her chagrin, at the dinner table on Christmas. And Timko's has long since vanished, the building having been occupied by a litany of businesses over the years.
As for Main and Jefferson, they form an iconic modern crossroads, a bustling testament to the "new" New Carlisle. Still, if you pause on the northwest corner where those thoroughfares intersect, you can almost hear the echoes of an era when the soda fountain at Timko's pleased so many for so long, including one exceptional mother and her grateful son. For him, memories of that time remain as fresh as a chocolate Coke -- and even sweeter.