Life Was Served
Their supplies came to them from all directions.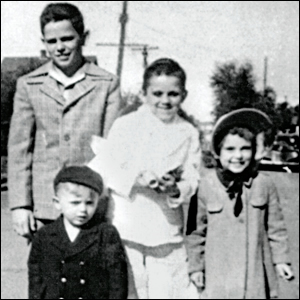 We were eight people living at home during the 1940s and early 1950s. Our family consisted of Mother and Dad, our maternal grandmother, Uncle Walter (Mother's brother), and my three brothers and me. I was the only girl and third in birth order.
Mother and Grandma were both stay-at-home moms, and the focus of their entire day, besides cleaning and laundry, was preparing and cooking the meals served daily for our family. It was a daunting task, to say the least. Mother relied on many sources to feed and care for our family.
Every Friday, Mother and Dad went to the local supermarket to buy the staples for the week. Our milk was delivered every other day by Aunt Alice's brother, our milkman, Frank. On Saturday, Mother included heavy cream in our milk order. Then, on Sunday, Mother and Gram would whip the heavy cream to be used for Sunday dessert.
In addition to my father's favorite gingerbread cake and pie, Mother always made Jell-O and chocolate pudding, the kind you cook on the stove and sometimes serve warm. The sweetened cool whipped cream on top of the still-warm chocolate pudding was especially delicious.
Binder's Market was a small grocery store around the corner from our house. Our meats and chicken were purchased daily along with cold cuts and fresh bread to be used for school lunches, which Mother and Gram made daily for all of us. Johnny and Helen Binder allowed the neighbors to carry their credit for a week, and so many times, if cash was scarce, Mother would ask Johnny to "mark it down." This meant that Helen would bring up the marble-pattern-covered composition book from under the counter and write down our daily purchase.
Each Saturday, Mother would pay the $10 or $15 week's bill, and sometimes there was still a small balance carried over from previous weeks. Helen and Johnny never asked for the money. They had complete trust in their customers in the neighborhood.
Each spring, Johnny always carried a dessert called charlotte russe. This was a 2-inch-tall pound cake served in a tiny, pristine, white, scalloped paper cup. On top of the cake were swirls of real whipped cream. Even though Mother and Gram baked everything from scratch, Grandma, especially, could never resist charlotte russe, and we were always treated to this wonderful dessert whenever Johnny carried it in the store.
For the most part, housewives of the 1940s and '50s did not drive, so peddlers were a welcome solution to providing families with service and a good variety of fresh food delivered at the doorsteps, while also giving the housewives a chance to visit and catch up on news with their neighbors. We had an egg man who delivered eggs weekly to our home and a man who delivered bleach bimonthly. Mother always referred to this man as "the no-worry man," and during my childhood years, I thought "no-worry" meant the bleach would take all the stains out -- not to worry. However, in later years, I found out No-Worry was actually the name of his company, No-Worry Company, which was based in Jersey City, N.J.
Life in a meatless-Friday Catholic neighborhood would bring the little fish peddler. He would appear every few weeks with a pushcart stocked with fresh fish. As he walked through the neighborhood, he would call out, "Fish! Fish!" All the housewives would gather around the little cart and select their fresh fish for the Friday evening meal.
I was told that this wonderful little hunched-over peddler actually put his four children through college just by selling fish. If I close my eyes, I can actually picture him with his cart, his head covered with an old tilted hat to protect him from the sun.
During summer and fall, our fresh vegetables were provided to us for free from our paternal grandparents' truck farm, which produced potatoes, onions, beets, celery, carrots, tomatoes, peppers, lettuce and cabbage. Weekend visits to the farm yielded an abundance of vegetables along with an equal abundance of wonderful memories with our relatives.
On the way home from the farm, Mother and Dad would stop at various food stands, and we would bring home baskets of fresh fruit in season. Plus, we had an additional treat of homemade ice-cream cones to look forward to.
In between visits to the farm, we would rely on Rubin, the produce man, who came regularly. He would park his horse and wagon in one spot, and everyone, gathered through word of mouth, would buy fresh produce from him.
We also had peddlers that came monthly to sharpen our knives and scissors to perfection. They would call out, "Knives, knives!" through the streets. Mother would wrap our tools in a dish towel and run downstairs to have them sharpened. Usually he charged 25 cents to sharpen knives and 10 cents to sharpen scissors.
An umbrella man came regularly and repaired our much-needed protection from the rain. We did not run out to buy a new umbrella the minute ours broke. Our umbrellas lasted a very long time. We also had a rag man who peddled the streets, calling out for rags. We always gave him what we had collected, especially old clothes that could not be passed down.
When I was 17 years old, Mother and Dad took a trip to California for a few weeks and left Gram and me in charge of the food and the boys. Mother left me money to spend on food, but Gram and I decided to be very frugal with our spending. We "made do" and used the money to pay off the outstanding balance at Binder's Grocery store. We never had to say, "Mark it down, Johnny," again. Johnny and Helen remained in business for many years, even after I was married, and still provided excellent service to all their customers.
Those were wonderful days.