A Real Cliff-Hanger
Most of the action wasn't even on the screen!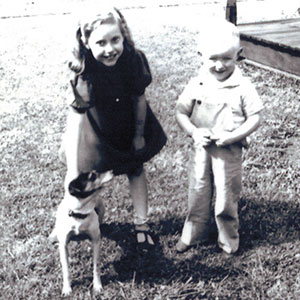 "Uptown" in my small hometown in northwest Ohio was a half block south of our house and four blocks to the west along the lengthy main street, which crossed the river. In those days of the mid-1940s, it was safe for us kids to walk, run or play anywhere in town as long as our parents gave permission. Since I had already run errands for them uptown, my folks decided that at age 9 1/2, I was responsible enough to go to the uptown theater (we called it "the show") and to have my 5-year-old brother, Bobby, in my care. He was a busy little guy, but I really wanted to go the movies, so I said I could handle the job.
We set off on a nice summer Saturday with me holding Bobby's hand tightly and a 50-cent piece knotted in a handkerchief in my other hand. Fifty cents got two tickets to the show plus a Baby Ruth for me and a Tootsie Roll for Bobby.
After a half block, we noticed that our little terrier, Tippy, was following right along. Not wanting to take her all the way back home, we ordered her to go home. But Tippy, the "mighty protector" of our family -- who must have weighed about 8 pounds, who always made pedestrians cross to the other side of our street, who shook rats in the alley until they scavenged no more -- would not be deterred from her self-appointed task of guarding her kids!
Then we noticed that she was no longer following us but was keeping pace with us by taking a parallel street. She paused at intersections to see where we were.
When we got to the show and paid at the front box office, we didn't see her and guessed she had finally gone home. We got our treats; Bobby gobbled down his Tootsie Roll before the lights went down.
We settled in for cartoons, newsreels, and two feature Westerns. It was a very long time for a sticky and fidgety little boy to sit quietly, so he kept bouncing constantly in the well-sprung seat beside me, ignoring my repeated whispered warnings to "Sit still!"
A lady sitting behind Bobby poked him on the shoulder and hissed, "Sit still, little boy!" It worked.
I spent the entire short intermission waiting outside the boys' room for Bobby. There was no time left for me to take a break.
About halfway through the second feature, I realized that I really needed to go to the restroom. But I couldn't leave Bobby alone, and I couldn't even think of taking him into the ladies' room. I tried not to think about it.
Just as we were minutes from the end of the exciting movie and Gene Autry was stranded on a cliff with the bad guys closing in on him, I couldn't ignore my need any longer -- I had to go! I warned Bobby to stay in his seat, to wait for me, and to tell me what happened to Gene when I got back.
I hurried as much as possible and hoped and prayed that my little brother would be OK. Unfortunately, the restroom was a mess; there was only one commode still functioning, and there was a wait while we ladies took turns.
Finally, as I made my way back to my seat, the movie ended, the lights went on, and kids were pushing past me to leave. I could see our seats but no Bobby! I didn't know what to do.
Then, as the crowd began to thin out, I could see him coming down the aisle from the very front rows of seats. I cried, "Why did you leave your seat?" He answered that I had been gone a long time and he went to look for our cousin Eddie who usually sat down front, but he wasn't there. I didn't know whether to be mad at him or just be glad that he was all right. So I asked him what happened to Gene Autry. He said, "I don't know."
As we exited the theater past the box office, there was Tippy, sitting right in front of the ticket window. The box office lady came out her door at the side and yelled, "Little girl, next time, leave your dog at home -- he's been scaring all the little children!" I nodded at her and pulled Bobby away from there. I was so afraid we would be arrested.
When we were almost half a block from home, we could see Mom out front, waiting for us. I dropped Bobby's hand and he took off like a shot to run to her. My responsibility was over!
Mom asked me how everything went. I just said it was OK. She asked about the movie and I said it was OK too. She wanted to know if Bobby had behaved. I didn't know how to tell her all that went on, so I said, "He was OK. But the next time, that box office lady said to leave Tippy at home!"
She didn't ask any more questions even though I could see that she wanted to. But I didn't have to take Bobby to the movies again, and I still don't know how Gene Autry got off that cliff.