Cruising With Classmates
The adventure has buoyed them for more than 60 years.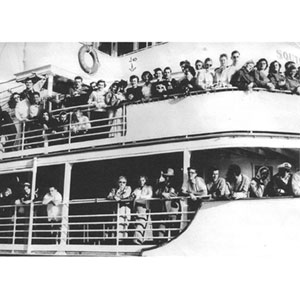 With three weeks left of high school in 1954, I received a graduation card. Inside I found a crisp Passenger's Identification Check and Meal Ticket for my Senior Class Cruise on Lake Huron.
The card was signed, "Bon voyage! Love, Mom."
I remember thinking how lucky I was that no matter what our circumstances were, my mother always came through for me. My father had died when I was younger. Money had always been scarce around our house. I had no idea how Mom came up with $48. I remember how much that cruise with classmates from East Detroit High School meant to me and how I immediately went upstairs to pack.
The SS South American, a passenger ship, had recently been prepared at the end of its winter layover in Holland, Mich., for its tourist season that ran from May until Labor Day. Traditionally, tickets for its first run -- four days, three nights -- were limited to 500 senior high school students. Passengers would visit historic Mackinac Island in Lake Huron and Canada's Sault Ste. Marie Locks, which led into Lake Superior.
That cruise was one of the perks for graduating high school in Michigan in the early 1950s.
Sunday, May 23, 1954, clutching my ticket and my blue Samsonite suitcase, I got out of my mom's old Hudson and walked toward the docks on the Detroit River at the foot of Woodward Avenue in Detroit. I was overwhelmed when I first saw the ship. It was at least 300 feet long and three stories high. From upper- and lower-level railings, high school seniors were laughing and calling to people on the dock.
I crossed the gangway that put me aboard ship, which seemed larger on the inside. A ship's steward said, "Cabins for gentlemen are on the port side." Then he added, "Port is on your left, sir."
My cabin was a tiny room with a porthole, bunk beds, storage units and a sink. Restroom facilities were down the hall. I put my suitcase on the top bunk and shook hands with my roommate, Jim Everett.
We verified mealtimes -- breakfast, 7 a.m.; lunch, 12:45 p.m.; and dinner, 6:45 p.m. -- and that dining required dinner jackets for the gentlemen and dressy dresses for the ladies.
We climbed the Grand Staircase up to the first deck, then other sets of stairs until we stood on the top deck. There we met our friends, all age 17: Chuck, Cliff, Tom and Vern. Tom unofficially volunteered to be the class photographer.
Celebrating our graduation began with a cheer from all 500 passengers as our ship left the dock.
With Detroit, Mich., USA, on one side and Windsor, Ontario, Canada, on the other, our ship sailed a few miles up the Detroit River to Lake St. Clair, up the St. Clair River and onto Lake Huron, the fourth-largest freshwater lake in the world.
Our four chaperones -- the school principal, one coach and two female teachers -- sat in chairs on the promenade deck all day.
Once out on open water, I recalled that we were all happy to have a break from school. Some kids socialized, some played deck games, and some built human pyramids while Tom O'Conner took pictures.
Mackinac Island allowed no motorized vehicles. Horse-drawn carriages were everywhere. Jim, Vern and I visited the Grand Hotel and its empty Esther Williams swimming pool. We had barely sampled 28 pieces of famous Mackinac Island fudge in Old Town when the ship's whistle blew. We rushed back to the ship. We didn't want to miss lunch.
As twilight approached, we gathered around our table in the Grand Dining Room. Lorna, our waitress, took our orders and served our food.
I noticed we didn't have to bus our dishes.
Vern said, "This food is better than cafeteria food."
Jim said, "It's all so civilized."
Chuck said, "I can't sleep because of the engine noises."
Cliff said, "If it's all so civilized, how come we can't have girls at our table?"
We took long walks around the ship on the promenade deck during the day (three times around equaled a mile) and gathered in the Grand Ballroom at night for square dancing and talent shows. Students sang Hit Parade songs like Don Cornell's I'm Yours and Teresa Brewer's Till I Waltz Again With You and other popular songs.
Tom used roll after roll of film, which had to be developed in those days and then returned to him.
Sadly, that cruise happened to be the last one for our high school; beginning in 1955, the Georgian Bay Transit Co. tied up its ships (except for charters and long cruises to the East Coast) in Chicago instead of Detroit.
Three weeks after the cruise, we all graduated and then drifted apart.
Recently, during coffee with my Friday group, I listened while a friend explained how he had paid thousands of dollars for his granddaughter's high school graduation trip to Mexico. He told how all the kids boarding the plane had their heads down and were occupied with electronic devices more than people.
I happily mentioned that my surviving classmates still gather in a park every August in old East Detroit with scrapbooks. To everyone's delight, Tom O'Conner shows up with handfuls of pictures that bring back memories of a time when camaraderie was enjoyable. We not only talked to one another aboard ship, we're still talking to each other more than 60 years later.