Night of Wonder
It may have been the same program every year, but it was different every time.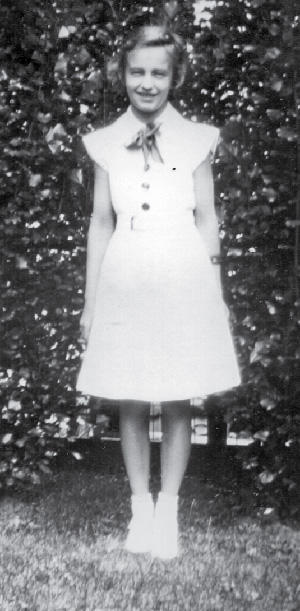 On Christmas Eve 1932, at Bethesda Evangelical Lutheran Church on the north side of Milwaukee, Wis., all the classes in our elementary school took part in the highlight of the year -- the Christmas Eve program.
I had attended our beautiful red-brick Gothicstyle church since the day I was baptized, and now I was in the school's third-grade class. I was 9 years old and had been given a special verse to recite in front of the whole congregation. Relatives packed every bench available to see their particular star perform. The program would be the same as in previous years, but the enthusiasm of the participants and the audience knew no bounds.
Snow had been falling since early afternoon, creating a sparkling beauty for this night of wonder and awe. Giant flakes fell on extended tongues and hands as Herr Professor Falk led our excited class across 11th Street from the school into the imposing church.
Herr Falk made slurp and crunch sounds as he trod through the snow. Born with one leg 4 inches shorter than the other, the peculiar boot he wore on his right foot was our clue as to his whereabouts.
My partner in line was my best friend, June. "Which star do you suppose was the one those wise guys followed?" I wondered out loud. As we marched across the snow-filled street, I was trying not to get my best shoes too wet in the slushy snow.
To look at our church, you might have thought that it had been brought on the boat from the Vaterland. German to the core, it hosted one service per week in the tongue that was a comfort to most of the older parishioners. The late service in English was in recognition of the second- and third-generation Americans who attended. This was before the advent of World War II, after which speaking German in church services in the U.S. pretty much disappeared.
Three mighty bronze bells boomed from the steeple to call the faithful. Three self-important eighth-grade boys used their weight to pull thick ropes to send the call ringing through the neighborhood. The "Bell Boys" glowed with pride to have been selected for this job of honor.
Students in grades one through eight, plus the kindergarten class of tiny tots, had practiced daily for a month for this night of nights, and now they were perfect in verse, story and song. Each voice sang Ein Kinderlein Kommet with gusto as we marched down Bethesda's middle aisle. Golden streams of light shimmered down from ancient gas chandeliers, dancing over the red, gold and blue of the beloved stained-glass windows.
My eyes darted back and forth to find Mom, Dad, Oma, Opa, Tante Martha and Uncle Doc, my personal audience.
As I slipped into our bench row, it seemed like a million candles burned on the gigantic Christmas tree at the altar. Ten buckets filled with water stood around the base of the tree, which didn't add to the beauty but helped Pastor Knuth breathe easier. The altar glowed with starched white linens and four white candles. Being this close to heaven was breathtaking for me.
"Look," June whispered. "There are our brown bags next to the tree." After the service, each youngster would receive a bag that held an orange, an apple, a handful of nuts in the shell, and 12 pieces of hard candy.
I checked the other thirdgrade girls' dresses. Betty wore her sister's hand-me-downs, well pressed and shiny. Pearl's mother had let down the hem of last year's dress. My aunt Anna sewed for rich people on Milwaukee's East Side and had made a new Christmas dress for me from leftover material. I loved my new dress of blue wool and its full skirt lined with red satin.
When it was our turn to recite, 30 of us found our places on the altar steps near the tree. The nine tallest third-graders hid shiny cardboard glittered letters behind their backs to spell C-H-R-I-S-T-M-A-S. I had been designated the letter M, which I thought sparkled like diamonds!
Each of us card holders made our debut as our small voices boomed. Herr Professor smiled. It was my turn! My moment of glory! I said my line: "M is for Jesus' mother, Mary," as I swept the card in front of me. But the M was upside down, so it looked like a W. Even my own fans roared with laughter! I was so embarrassed, and my face must have been the color of a beet. But, even with the mistake, I still got the treasured brown bag.