The Busy Bee
He spent decades in the corner grocery store business.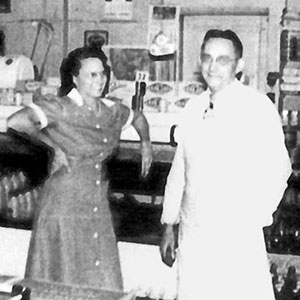 During the late 1930s, my dad owned a grocery store at the corner of Ninth and College in Terre Haute, Ind. He jokingly nicknamed the store "The Busy Bee" because business was usually slow. Dad spent much of his time sitting on a stool in the back room, reading a newspaper or listening to the radio.
Our grocery store was part of a larger complex housing other businesses: a garage, a beauty shop and a dry cleaners. An apartment was upstairs. A German man, Gus Rohm, owned the building, and his daughter ran the dry cleaners.
On warm days, Mother and I walked 11 blocks from our home to visit Dad at The Busy Bee. The store was a child's dream come true -- a magical land of giant candy bars, penny candy, an assortment of cookies, a variety of ice creams and all flavors of Nehi soda. While Mom and Dad visited, I helped myself to all the goodies my tummy could tolerate.
Behind the meat case was the butcher block where Dad cut meat. He maintained a professional appearance, wearing a white shirt, black bow tie, and a long white apron reaching to mid-calf and tied in the front. By the end of the day his apron was soiled from cutting the meat. It was replaced daily with a clean one.
For the first eight years of my life, I was an only child, and I was doted on by my father. We had nicknames for each other. I called him "Daddy Boats" and he called me "Skipper." Mother frequently worked at the store, providing a break for my dad so he could spend quality time with me.
When Dad sold The Busy Bee, he went to work for one of the supermarkets. By this time, we were at war and food rationing had begun. The stress of rationing was too much for Dad, so he got out of the grocery business until after the war.
Then, in 1947, Dad bought a century-old grocery store in Prairie Creek, a small town south of Terre Haute. We moved into an apartment over the store. It was primitive, with no modern conveniences except electricity. There were two large rooms, a small kitchen, a hallway and two rooms used for storage. There was an outside privy, and water had to be carried upstairs. Our only source of heat was an oil stove in the living room. We entered the apartment via a narrow stairway through the back of the store or through an outside entrance.
It was a far cry from my comfortable home in Terre Haute, and I hated it! A year later, though, we moved from the apartment into a nice house down the street.
Dad worked 10 to 12 hours a day. In the winter, customers loafed around the potbellied stove. In the summer, they sat on the bench outside. Many of his customers bought food on credit, which sometimes created a hardship for Dad. He managed to make a modest living, but not much more.
In the early 1950s people began driving to Terre Haute to shop. When Dad could no longer make a living selling groceries, he sold the store and got other employment. In the early '60s my family moved back to Terre Haute, where they lived until my father's death in 1973.
The grocery store in Prairie Creek and The Busy Bee have been torn down. A few vacant store buildings remain in the old neighborhoods of Terre Haute, although the windows are boarded up and wild vines cover decaying brick and mortar. It is a sad but proud reminder of a time when a nickel could buy a lot of things at the neighborhood grocery store.