Cows and Brothers
He couldn't trust either of them!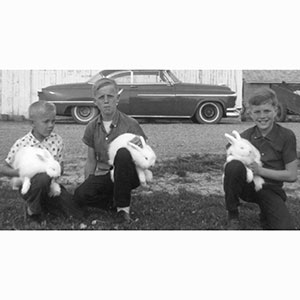 I grew up on a farm in rural northwest Ohio, the sixth of nine children. My mom's dad originally owned the property, which was a challenge to farm because of the hard clay soil. My dad wisely added livestock to the mix to help pay the bills and put food on the table.
We kids were given chores at an early age, and we were expected to do them, no questions asked. For the eight of us boys, our duties included milking, feeding and pasturing the cows on a daily basis. We mostly enjoyed this job. We loved all of our animals; we named them and we got to know their personalities.
I often tagged along behind my brother Frank, who was two years older than me. Whatever he did, I wanted to do, whether I was old enough or big enough to do it or not. We worked, played and got into trouble together. He was my best friend, but I learned at a young age that he wasn't always to be trusted.
Frank had trained one of our cows, Daisy, to let him ride on her back. I begged him to let me ride the cow too, and one day when we were supposed to be leading the cows out to pasture, he relented. "Go ahead and climb on," he urged me. "I'll jump on behind you." That made me feel confident enough to give it a try, despite the nervous look in the cow's eyes and ornery look in my brother's eyes.
I struggled onto the back of the huge bovine, but she immediately sensed an inexperienced rider, and off she went, running at breakneck speed with a 5-year-old hanging on for dear life!
Frank ran behind us, yelling for the cow to "Whoa!" and trying desperately to catch up to us. He was regretting his decision to let me ride her, if only because he feared the punishment from Mom and Dad if I got hurt.
Daisy ran through the barnyard and across the road to the pasture she was familiar with and finally slowed to a halt. I slid off her back, wide-eyed and shaken, but unhurt. I vowed to never ride that cow again, no matter what my brother said. Once was enough!
Riding calves was a different story. I still liked to do that -- they were smaller and safer than those big cows. When we had calves on the farm, Frank thought it was fun to train them to follow him. He would fill his pockets with apples and feed one to a calf, leading it around as he fed it, little by little.
Often when I was riding on the back of a calf, Frank would produce an apple to entice the calf and then start running, with me once again hanging on for dear life as the calf took off after him. I usually ended up on the ground with an injured behind and an even more injured sense of pride.
As I got a bit older, I found a way to get back at Frank. Whenever we played tag in the barnyard, all I had to do was scramble up the beams in the hayloft to get away from him. This strategy ensured my success; Frank might have been unafraid of cows, but he was deathly afraid of heights.