The Stoneboat Rescue
Deep drifts temporarily buried their Christmas spirit.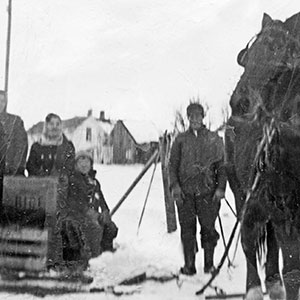 Most families have holiday traditions and ours was no different. Our most treasured one was going to Grandma and Grandpa's for a family Christmas feast of roast duck, glazed ham and all the related goodies that left us painfully plumped. Afterward there was the much-anticipated gift opening. This also gave us a chance to spend some quality time not only with Grandma and Grandpa but with our uncles, aunts and cousins. It was one of the few times we were all together during the year.
We kids always looked forward to comparing the Christmas presents we had opened earlier at home. Often one present was a board game like Clue or Uncle Wiggly, or a card game such as Rook or Pit, which we brought along. After stuffing ourselves with the traditional Christmas dinner and opening our grandparents' presents, we kids usually found a corner where we could try out the new game.
Since Christmas Day was essentially a family reunion, we anticipated it for months before the actual event. But one year, it almost didn't happen.
You can imagine our dismay when, just days before Christmas, we were hit by a North Dakota winter storm that left the roads blocked with 3-foot drifts. Not only were these drifts deep, but the winds that accompanied the storm had hardened them to the point that the township V-plow couldn't break through them. This meant that we would have to wait our turn for the one county rotary snowplow to come plow us out.
As the holiday approached, it became more and more apparent that since ours was a low-priority road, we were still going to be blocked in on Christmas Day. The usual merry Christmas mood was subdued and overshadowed by the realization that there would be no Christmas Day at Grandma and Grandpa's this year.
If it had been 10 years earlier, when Dad had depended heavily on horses to work the farm, we would have had a team and a sled to use and could have made our way to town over the tops of the hardened drifts. But the horses had long since been sold off and replaced by tractors and hayracks. Only Old Toby, whom Dad had sentimentally granted "on farm" retirement, remained, and he hadn't been harnessed in years.
The night before Christmas had always been filled with a special oyster stew supper. Afterward there were treats of Christmas nuts and candies. Songs were sung (albeit off-key), stories were told, and the house was filled with goodwill and laughter. But this night no one seemed to have much of an appetite, and the songs came out only half-heartedly. Laughter was limited. In our melancholy, we hardly noticed that Dad mysteriously left the house a couple of times during the evening.
After we said our prayers, we asked, "Mom, what are we going to do tomorrow instead of going to Grandma and Grandpa's?"
"Oh, don't worry. We'll find something. Now go to sleep or you won't find any presents under the tree in the morning!"
I doubt we got over a couple of hours of sleep that night, and we awoke shortly after sunrise. As we came downstairs, Dad was just coming in from outside. It seemed a bit early, but we knew it was his custom to always give the livestock an extralarge ration on Christmas Day. We assumed he had gotten up early to make sure he'd be done by the time we were ready to open our presents.
The Christmas tree, decorated weeks earlier with garlands of threaded popcorn and silver tinsel, had stood alone in the corner of the living room, but now the tree was surrounded by Christmas presents. There were two for each of us -- one from Mom and Dad, and a second from our siblings.
The excitement of the tree, opening the presents, and enjoying a special breakfast momentarily blocked the gloom of the night before. It was only after things had quieted down that the dismay and realization of our situation returned. Normally by now we would have been bustling about, loading the car with Mom's contributions to the Christmas smorgasbord, our Christmas gifts to the grandparents and cousins, and our new board or card game.
It was then we noticed something was wrong. Shouldn't Mom be busy in the kitchen? Shouldn't we be beginning to smell the ham roasting?
"Mom," I queried, "what are we having for dinner?"
"Oh, I guess I'll have to figure out something I suppose. But I think your dad has one more surprise Christmas gift for you outside he wants to show you first."
She tried hard not to give the surprise away by the twinkle in her eye.
A bit confused but full of anticipation, we quickly donned our winter gear and rushed outside.
There, standing next to the barn, was Old Toby, fully harnessed and hitched to our stoneboat.
The stoneboat was a device purposely built close to the ground. Normally we used it behind the tractor for hauling stones out of our rocky fields in the summer and hay bales to the livestock in the winter. It was constructed of two large poles, sharpened a bit on the front end, laid parallel to each other on the ground and held apart by 4-foot-long 2 x 4's.
We had never thought of it as a mode of transportation for the family, but Dad had. Those numerous trips outside the night before and his early morning outing had been to harness and reharness Old Toby to remind him of what it felt like to be a harnessed workhorse and to make sure he would and could pull the stoneboat with relative ease. Dad had even placed a chicken crate on it as a makeshift seat for Mom and us kids.
So it was that we rode the stoneboat over the snowbanks and through the woods to Grandmother's house that day. That Christmas that almost wasn't became one of our most memorable ones. To this day, just the mention of our "stoneboat Christmas" brings back a flood of cherished memories of what we now consider to have been the best of times.