The Magic Valentine
It made a lasting impact.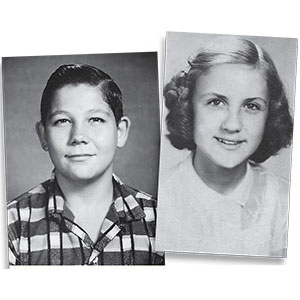 The year was 1954 when I first saw my future wife in church. She was 11 years old and I was 12. I didn't think too much about her then; she was tall and thinner than a hickory beanpole. I did admire her long, light brown hair, deep blue eyes and her smile that could melt blue ice.
When Valentine's Day came around, our minister said it would be nice if each person gave a card to a special person. Not having anyone special in mind, I decided to give one to the prettiest girl in church, Arbutis Farley. I knew I was not her special person, but that didn't bother me for I had baseball to think about.
Not having any money, I searched through a box full of old cards my Mamaw Clark had given me. I found one that had been written on with a pencil and was very faded. I erased the writing and replaced it with a simple message: To Arbutis Farley from Douglas Clark.
On Valentine's Day, after the usual cookies and punch, I walked to where she was standing with a group of girls and handed her the card. She took the card and put it in her pocket. The other girls tittered like a group of birds. I was very embarrassed and said the first thing that entered my mind.
"I don't have anyone special, so I'll just give this card to you."
Arbutis took the card from her pocket and looked at it. "That is just fine and dandy," she said. "At least you spelled my name correctly." On that note she turned and walked away.
Over the next year we spoke and smiled, but she never said a word about the card or what I had said.
When I was 13 years old I and my family moved away. I attended a different church, but Arbutis Farley never faded from my memory.
In 1956, I attended one of the larger high schools in our county. During orientation the auditorium was packed with new students. I stood and scanned the group, hoping to see a recognizable face. Lo and behold, there sat Arbutis Farley. She was not the thin beanpole of a girl I had known in church; she had grown up. The seat was empty beside her, so I pushed my way over feet, legs and bodies to reach the seat before it was taken.
I slid in beside her and smiled. "I'll bet you don't remember me, do you?" I asked.
"Yes, I remember you," she smiled. "You are Douglas Clark, and you attended our church at one time."
I was totally amazed. "I didn't think you would remember me; after all, we were not the best of friends."
"How could I forget? No one ever gave me a Valentine's Day card with a message like that on it." She smiled.
A "message"? What was she talking about? All I could remember was writing her name and mine.
Arbutis gave out a soft laugh. "You never read the card before giving it to me, did you?"
I straightened up and put on my best smile. "Of course I did, and I meant every word of it."
Knowing my feet were to the fire, I quickly changed the subject. "Have you seen anyone else here you know?" I asked.
"A few," she responded, glancing around the huge auditorium. "But I don't think any of them recognize me."
"After we receive our class assignments maybe we should meet and see if we have any classes together," I said.
"That would be nice." She smiled. "At least I have a chance of being in class with someone I know."
I smiled back. "If we don't have any classes together, maybe we could sit together before school or in the evening before the buses arrive."
"I think that would be nice," she returned.
After receiving our assignments, I walked Arbutis to her homeroom. "I will meet you on this spot before the next class. Now don't go wandering off and get lost." I smiled.
She narrowed her blue eyes. "Just make sure you are here. I don't want to be late for my class."
We met after homeroom but did not have any classes together. I was so disappointed. We did meet after school and talked like old friends. As for me I was smitten and knew there would never be anyone for me but Miss Arbutis Farley.
The next morning I could not wait to see the girl of my dreams. I hurried to the auditorium and scanned the multitude of students. From behind me I heard a soft feminine voice. I turned around.
"Searching for someone special?" Arbutis asked. "Maybe you want to give the person a card."
"I was searching for someone special," I replied. "But not now, for I found her."
Arbutis touched my hand and it was like electricity. "Let's find a seat," she smiled. "I have something to show you."
Sitting beside her was a dream that came true. I waited, not knowing what was to follow. She handed me an unsealed envelope and smiled. "I have been saving this just for you."
I opened the envelope and received a shock; it was the card I had given her when she was 11 years old.
I was more than surprised and for a moment words failed me. "I don't understand," I stammered. "Why would you keep this card?"
Arbutis smiled her beautiful smile and took my hand in hers. "The card was from you and in my heart I knew some things are just meant to be. I knew that someday our paths would cross again, and this time, I want to give you the message you gave to me."
I read the Valentine's Day card and knew we would be together for a lifetime. I gently squeezed her hand. "See, just like I said, I meant every word of what was printed on the card."
Four years later on May 28, 1960, we graduated from high school. On June 3, 1960, when Arbutis was 17 and I was 18, we were married.
Soon we will celebrate our 58th wedding anniversary. Some things are just meant to be.