Delightful Dividends
Candy was their preferred investment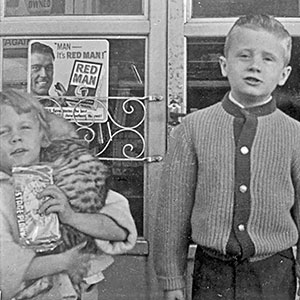 Today, many adults put their money into banks for the future. In the early- and mid-1960s, we kids had our own kind of bank, a type that paid dividends in the present, not the future. Those dividends weren't in the form of money, but instead came in an unending array of sweets, adventures and joy.
Our banks were candy stores.
These weren't actual dedicated candy shops, but local mom-and-pop stores, the kind that have now all but disappeared from the landscape. Erie, Pa., was replete with such shops in those days, and there were four of them within easy walking distance for us.
Each mom-and-pop contained that mecca of childhood -- the candy counter. And the proprietors knew what a gold mine they had. My sister, brother and I had never been to a local store that didn't have the candy counter right in front, next to the register. It was the first thing we saw when we walked in, and unless our parents had sent us on a grocery errand, we never ventured farther than that taunting, enticing counter.
Although we didn't learn much about saving money, we did learn how to portion it out and spend wisely, applying kid-style wisdom. If we had less than a nickel, we went to the penny counter at Wiley's Grocery on Buffalo Road. My money there usually went to a licorice wheel -- a round, rolled-up licorice whip with a red candy in the center -- or red licorice laces, or Atomic Fire Balls -- those ridiculously hot jawbreakers that usually left us happily drooling in delighted agony.
If we had less than a dime but more than a nickel, our horizons expanded. Depending on our mood, we could go to Wiley's for either a box of pretzel sticks or a package of pink-frosted Stage Planks cookies -- a ginger- and molasses-flavored treat. Or we could walk to Orsetti's Market on the corner. There, right next to the impressive and beautiful Victorian-style cash register, was Bea Orsetti's candy counter.
Walking into Orsetti's, the first thing we did was go to the front window, where Bea and Joe kept "money plants." Those things fascinated us with their long, light, tawny stalks dangling with paper-thin, translucent silvery "coins." As we stared, we breathed in the delightful aroma of dill, a huge supply of which Bea always had dangling nearby.
It was only after this ritual that we went to the candy counter and pretended to look at all the goods. We knew exactly what we wanted, and there they were: little white paper bags of penny candy Bea made for a nickel. And the bags always included one stale marshmallow -- which we loved! You never knew what you would get in that candy bag, but the stale marshmallow was always there. Perhaps that is why Becky, Stevie and I always let our marshmallow Peeps at Easter time dry out and harden a few days before we ate them. It became an acquired taste.
With more than a dime but less than a quarter, we would head down Buffalo Road again, this time a few blocks away to Bender's Grocery to buy large Pixy Stix, or Nik-L-Nips, or maybe a long rope of bubble gum in some overwhelmingly bright neon color with a pungency to match. Bender's was the first in our area to bring in Razzles in the mid-'60s: Is it a candy? Is it a gum? Whatever it was, we loved it! And if Mom knew we were going to Bender's, she would give us a little extra money to buy her a Chunky or a Bun candy bar -- her favorites.
But if we had a quarter or more (rare for us, having no allowance), we would walk the half dozen blocks into the nearby town of Wesleyville and up to Catrabone's Variety Store. Walking to Wesleyville alone was an adventure. We always stood poised on the corner of Bird Drive, knowing that by crossing the street, we were entering another city! It made us feel like world travelers.
Catrabone's candy counter had it all! If it was weird and wonderful, it was there! There, enticingly tucked behind its beautiful, massive, curved-glass counters, was simply everything. For a quarter you could fill a small bag with candy. Or you could diversify and buy a couple of larger items, maybe a $100,000 candy bar and a Monkees flip book. Or Monsters bubblegum cards and a Wowee wax whistle at Halloween. The store even had little plastic smoking monkeys that would puff away at a lit "cigarette," entertaining us as we enjoyed our Ferrara Pan's Boston Baked Beans or miniature jawbreakers or Lemonheads.
If we had a penny or two left over, our own version of the one-armed bandit was waiting at the exit door: the gum ball machines. There, randomly tucked away amongst the sprinkles of colored gum balls, were yellow gum balls with two red stripes, looking like angry bees trapped in a psychedelic hive. And if you were lucky enough to win one, back into the store you ran. Depending on the store, it meant 5 cents as a prize, or a whole candy bar! Oh, it was no coincidence that we usually had a penny or two left over from our purchases.
Looking back, I guess Buffalo Road was our Las Vegas. Every childhood temptation was there, and we gave in to temptation freely, starting with Jack Frost Donuts on one end, then Wiley's, Orsetti's, Bender's, Twin Kiss Ice Cream and ending with Catrabone's at the other end. Every weekend we stopped by our banks and reaped instant gratification!