The Ornament
Watching her make the glittery masterpiece capped off an exciting day.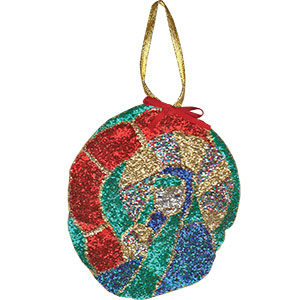 It was the Christmas season of 1963. Mom had been making cookies for a few days, baking them with our "help" before putting them on newspapers on the old folding card table to cool, then putting them into round potato chip boxes as she added a sheet of waxed paper to separate each layer. For days the Christmas cookie smells hung heavy in the air: chocolate crinkles; cutouts with their flavored frostings of peppermint, vanilla and brandy; three-striped Neapolitans; and Russian tea cakes. There was even the sweet anise smell of homemade pizzelles. And on this particular day, she told us there was one more batch to make in the evening, but first we would have a special treat in the morning: an outing.
We were excited with wonder. Where were we going? This holiday season, our truck-driving father was home instead of on the road, and even he was showing signs of having something exciting up his sleeve. Mom had us all dressed up, which meant that this would not be our typical trip -- for example, a trip to visit relatives.
We all piled into the car, and about a half hour later, we found ourselves pulling into the Sears parking lot in downtown Erie, Pa. Sears? Wow! We had never been there before!
In our minds, Sears was for rich people, and nothing that we saw when we entered dispelled that belief. There were ladies with fur coats and heavy makeup; in fact, Mom had put on her best red lipstick in the car, closing her mouth over an old envelope a few times to dab off the extra. There were escalators and music in the air and ringing bells -- and Santa Claus! What? We came to visit Santa? Heaven!
We got in line in the garden center, and it wasnít long before we realized why Dad was so excited. Yep. He sat on Santaís lap and had his picture taken too. Santa just rolled his eyes, gave Dad a candy cane for being a "good little boy," and then gave each of us kids a turn.
For us, Santa reached into two big, white canvas sacks. One contained candy canes, and the other contained plastic rings with Christmas images. Mine had Rudolph, complete with a red foil nose, and I could not have been happier. Rudolph was my Christmas hero, and most nights this season I had Mom read to me about him out of my Little Golden Book.
I donít really remember much more about the Sears visit, but I am sure our parents shopped around a bit or at least looked around a little before we headed home. It had been snowy for a few days, so when we got home, we kids changed into our playclothes, boots, mittens and coats before heading outside. Mom got things ready for the eveningís baking.
We were lucky enough to have a sledding hill in our backyard, and we shared two sleds among us. Well, OK, one sled and one red plastic toy motorcycle. I had gotten it for Christmas three years earlier, and we loved to ride it down the hill, summer or winter.
Far too soon the call came to head inside. Normally we objected, but we were making more cookies tonight and we couldnít wait. One more night of cooking smells and licking the bowls!
Yet, when she was done with her baking, Mom didnít put the card table away after the cookies had cooled on those newspapers. Instead, she cleared away the cookies, adding them to their earlier companions in the potato chip containers, and flipped the Firestone Christmas record on the record player. As side B and its glorious recording of The Hallelujah Chorus crackled out, she sat down at the card table with a pencil, some scissors, cardboard, glue and glitter.
Glitter? I was fascinated! I had already been given a Kenner Mr. Magoo Sparkle Paints set, and to my young eyes, each sparkle was the purest magic. And now here was Mom, working with glitter! Chin in my hands, elbows on the table, I stood and watched as Mom made a wonderful ornament out of cardboard and glitter: Mary and Baby Jesus, in the style of a church window.
The memory of watching Mom make that beautiful ornament is as clear today as it was on that chilly evening more than 50 years ago. Each Christmas when she brought it out and hung it on the tree, my eyes glowed with wonder as I watched the lights shimmer across her magical stained glass window.
When I got older and left the house to start my own life, Mom gave me that ornament. I cannot describe the emotional overload of receiving such a precious gift. My mind was instantly transported back to little 5-year-old me watching Mom make this incredible ornament.